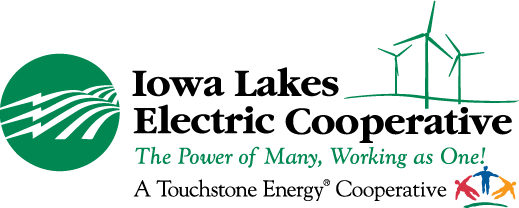 Full-Time
Information Technology Technician
at
Iowa Lakes Electric Cooperative
Posted Date:
November 14, 2023
Apply By:
December 16, 2023
Compensation:
Salary is commensurate with qualifications and experience.
Iowa Lakes Electric Cooperative is seeking qualified candidates for the position of Information Technology Technician. The Information Technology Technician will assist the Manager of Information Technology and Technical Support in various aspects of the Cooperative's operations, including Advanced Meter Information Systems (AMI), IT network, IT systems and computers, power quality, radio system and telephone systems. The role also involves training Cooperative member-owners and employees on new technologies.
ILEC offers a strong benefits package including IAEC and NRECA insurance programs and NRECA 401(k) and defined benefit pension plans. Qualified applicants should forward a resume and cover letter to: Iowa Lakes Electric Cooperative, Attn: Human Resources, 702 South 1st Street, Estherville, IA 51334 by December 15, 2023. Documents may also be submitted via e-mail addressed to hr@ilec.coop. Iowa Lakes Electric Cooperative is an electric distribution cooperative headquartered in Estherville, Iowa. ILEC serves approximately 13,140 accounts and owns and maintains 4,800 miles of distribution line. Further information may be found by visiting ILEC's web site at www.ilec.coop. For additional information concerning the Iowa Great Lakes and Estherville areas please visit the following websites at www.lakescorridor.com, www.exploreokoboji.com and www.estherville.org. EOE
Responsibilities
Position objectives and responsibilities are as follows:
Advanced Meter Information Systems (AMI):
Oversee AMI systems, test and troubleshoot AMI equipment.
Keep relevant personnel informed about power quality, metering, and related technologies.
Information and Communications Systems:
Act as a system support technician for the Cooperative's network system.
Offer technical assistance on new projects related to telephone communication systems.
Hardware Systems:
Assist in the administration, installation, operation and maintenance of hardware systems.
Provide input and support for the Cooperative's hardware systems including, cellular devices, computers, servers and related equipment.
Qualifications
Requirements:
A High school graduate or equivalent.
An Associate's Degree in Electronics, Telecommunications or Information Technology fields.
Additional education or training in electricity/electronics preferred.
Knowledge in Network equipment and cybersecurity processes preferred.
Microsoft Certified professional certification preferred.
Proficiency in working with computer, server, and related network equipment.
Ability to read and understand technical drawings and complete routine reports.
Excellent organizational skills, attention to detail, strong analytical and problem-solving skills.
Strong interpersonal and communication skills.
Ability to work under pressure and handle multiple tasks.
Pre-employment drug test required.
Iowa Lakes Electric Cooperative
702 S 1st Street

Estherville
, IA
51334

United States